In Memory
Mike Jarvi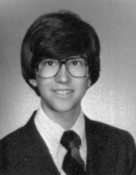 Mass of Christian Burial for Michael J. Jarvi, 39, Lawrence, will be at 10 a.m. Friday at Queen of the Holy Rosary Catholic Church, Overland Park. Burial will be in Resurrection Cemetery, Lenexa.
Mr. Jarvi died Saturday, July 1, 2000, at St. Luke's Hospital, Kansas City, Mo.
He was born May 11, 1961, in Wakefield, Mich. He graduated from Shawnee Mission South High School, Overland Park, in 1979 and from Kansas University with a degree in architecture and urban design in 1984.
Mr. Jarvi was vice president of Warman Jarvi Design Group of North Kansas City, Mo., and Lawrence.
Survivors include his mother, Lorraine; his father, William; a sister, Diane; two brothers, Robert and James; and his grandparents, Art and Nora Jarvi.
Friends may call from 6 p.m. to 8 p.m. Thursday at Amos Family Chapel, Lenexa, where a prayer service will be at 7 p.m.
The family suggests memorials to the St. Luke's Hospital Foundation, P.O. Box 119000, Kansas City, Mo. 64171-9000, or the Kansas University Alumni Association, sent in care of the Amos Family Chapel, 10113 Lenexa Drive, Lenexa 66215.